Coach bus companies struggling to go the distance
By Connor Ciecko
According to the US Travel Association, travel spending in the US is expected to be about 45% less this year than in 2019. Eyes were on the airlines back in March and April to see how their industry would react to the travel restrictions and a newfound unease with flying, though the $50 billion government bailout has been keeping them in the air and quelling fears of dissolution.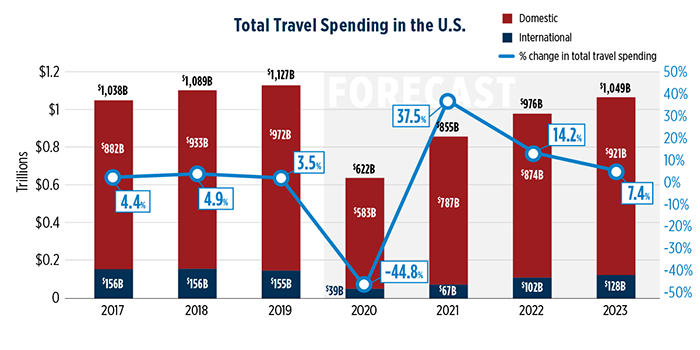 Chart from www.ustravel.org/toolkit/covid-19-travel-industry-research
While they have been the most in the spotlight, the airlines haven't been the only service hit. Amtrak, the national rail program, has seen ridership drop 95% since March, and has cut staff and daily service to hundreds of stations across the country. Despite the lower volume, Amtrak, like the airlines, benefited from federal aid.
Closer to home, the coach bus company Peoria Charter Coach Company has seen a 99% reduction in ridership, according to a statement from the company.
"The Motorcoach Industry has received $0," the statement read.
The family-owned bus company historically has been a primary source of travel for students between the Chicago area and Champaign. With students not travelling to or from campus, uncertainty for the fall, and a generalized worry around travel, these numbers have dropped significantly. PCC has, in turn, stopped service to Peoria and Normal and has reduced the buses running to Champaign to just one a day.
We Need Your Help! (PLEASE) Our Industry is in trouble! Peoria Charter has seen a 99.2% reduction in business since March 17. Without Federal Aid, the Motorcoach Industry (including PCC) will disappear. Take 30 seconds to help save our jobs! https://t.co/Ym8k9d3JsS #RestartTheBus

— Peoria Charter (@PeoriaCharter) July 14, 2020
Currently in discussion in congress, the CERTS act would allocate nearly $10 billion in economic relief for coach companies. Across the nation, coach and bus companies employ more than 400,000 employees and provide needed and accessible travel to over 600 million people each year, according to the American Bus Association.
The bill was introduced on July 1 by Senators Susan Collins (R-Maine) and Jack Reed (D-R.I.). It is not yet clear when the senate is expected to vote on the measures.
About Post Author